Events

IHM Oktoberfest — Saturday, October 1st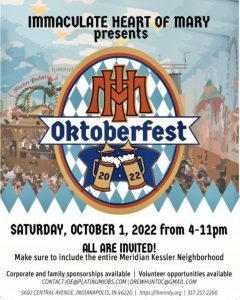 One of Meridian-Kessler's biggest and best neighborhood festivals is coming soon.  IHM Oktoberfest will be Saturday, October 1st, on IHM's campus at 5692 Central Avenue.  All neighbors in Meridian-Kessler are invited and encouraged to attend for a fun and free day in the community!
The festivities kick off that Saturday morning at 9:00 a.m. with the IHM Oktoberfest Fun Run.  Both runners and walkers are encouraged to come out for this fun event passing through MK's tree-lined streets.  Options are available for all skill levels – a one-mile loop, two miles, or the full 5k.  Don't miss the always fun "Catch Father Bob" sprint at the race's start.  Refreshments, drinks, and a reception follow.
Oktoberfest will begin at 4:00 p.m. and continue until 11:00 p.m. Organizers will have live music and neighborhood celebrity DJs on the main stage.  There will be tons of food options.  And this year features new and improved games for kids and adults.  Compete in stein races, the stein toss, a wurst throwing contest, and the liter holding contest.  The event will also feature a Kinder Karneval and a cake walk for the youngers kids.  And Sun King beer will be on tap!
Check out the event's website – https://ihmindy.org/oktoberfest – for more details.  We look forward to seeing the neighborhood on October 1st at IHM Oktoberfest!