MK Business Leaders Gather for Annual Business Breakfast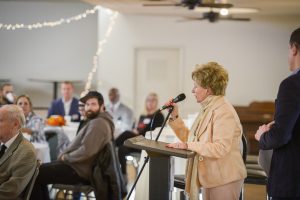 Local business owners gathered November 9, at the Riviera Club for the Meridian-Kessler Neighborhood Association's 2017 Business Breakfast. More than 120 family, community and corporate leaders represented shop owners, faith-based institutions and entrepreneurs that characterize the diversity in Meridian-Kessler.
But more important, business owners assembled to bid farewell to MKNA's retiring executive director, Caroline Farrar. For more than 30 years, Farrar has been a champion for her beloved neighborhood. And business owners openly showed support for Meridian-Kessler's mighty warrior.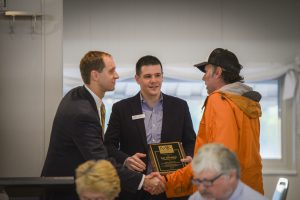 Patrick Lane, Chair of the MKNA Business Committee presented the "Sid Maurer Award for Outstanding Business Leadership." This award is named in honor of Sid Maurer, who with his wife Eleanor, owned and operated the Atlas Supermarket for 55 years at the corner of 54th Street and College Avenue. Sid and Eleanor were beloved by their customers and the community, largely due to the personal relationship they built with their customers.  This year's recipient is Ron Harris, owner of Locally Grown Gardens at 54th and the Monon.
Lane also presented the M-K Stimulus Award, given annually to a newer business that has made a strong, positive impact on the Meridian-Kessler neighborhood. The 2018 honor went to Twenty Tap owner Kevin Matalucci.
Tom Healy, the editor and publisher of Indy Midtown Magazine who resides in Meridian-Kessler, moderated a panel of guests instrumental in the development of the Monon Trailway and other developments in the neighborhood.
Following the MKNA Business Breakfast event, MKNA received a note of gratitude from Eleanor Maurer, wife of Sid Maurer.
Many thanks to those who attended and the business owners that support the Meridian-Kessler community every day.