2018 Home Tour Recap: Part One
4511 Broadway Street

The home of Kelli & Charles Kunkel was a tour favorite as the home was on the 2017 Home & Garden Tour! When the Kunkel's returned to Indianapolis from San Diego, they enlisted the talented Jenni Egger Designs to revision this lovely 1922 French Colonial.
A number of renovations including a full kitchen remodel and expansion, front entry & porch redesign and the finishing of the basement – including many others – gave this home a completely new look and function for the Kunkel's and their teenage sons.
The home also features two Maria Theresa chandeliers from the 1800s, the original winding banister to the second floor as well as beautiful columns, barrel ceiling and moldings and original hardwood floors. With a lush front lawn, this property also includes a garage with front driveway access and a lovely backyard seating area for family gatherings.
123 E. 44th Street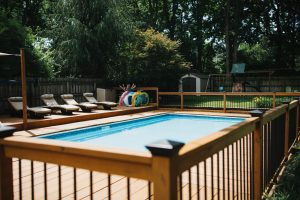 Home to Katie & Michael Crafton, this gorgeous home is tucked away on 44th street and has the perfect setup for this growing family! Having grown up Indiana visiting her grandparents in Meridian-Kessler, Katie was eager to raise her family in the area. 44th Street features a lush tree canopy and deep lots.
The Crafton's home features the original hardwoods and doors throughout as well as a whimsical third story play room filled with natural sunlight. Being a part of a community where neighbors support one another was attractive to the Crafton's when they bought this Newo-Tudor Revival in 2013. Complete with in-ground pool and backyard with room to roam, the back patio, outdoor kitchen and fire pit were added in 2016.
25 E. 40th Street, 7K
 
Home to designers Julie O'Brien & David Stahl, this condo is located in MK's Zone 1. With the ease of living and low maintenance, Julie & David were drawn to this 1965 Mid-Century Modern building when they were looking to downsize from their Meridian-Kessler Spanish-colonial home.
The space features works from all over the world including Tess Michalek, Brad Fugate, Sam Sartorious, Lois Templeton, Wendy Franklin, Rachel Bullock and Constance Scopelitis.  The newly renovated kitchen includes wide-plank, white oak floors throughout that spill over into the great room.
This bright, open space features eclectic pieces from the the owners' travels as well as family heirlooms and pieces they, themselves designed including a black lacquer table with cloisonne by William Switzer which is actually named for one of the owners.
3839 N. Park Avenue

The home of Kristen & Jeff Ballard sits directly next to longtime neighborhood institution, Coburn Place Safe Haven. With kiddos and a passion for the community, the Ballard's knew Zone 2 was the place for them when they came across this Jensen Design project while it was in its earliest stages. Their home is perfectly positioned between the Ballard's workplaces, the kid's school and their family church.
This craftsman style home retained its original brick front porch through the renovations. It now features an open floor plan on the first floor and four bedrooms on the second floor. Exquisite tile work can be found in both the kitchen and kid's bathroom. A pebble floor can be found in the standing shower of the master bath along side a large, beautiful tub.