Indianapolis Opera: Lobster Palooza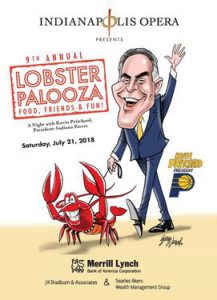 ​An experience like no other, "Lobster Palooza" is an evening of unadulterated FUN, fabulous FOOD, DANCING under the stars with 300 of Indy's best revelers! Scheduled for Saturday, July 21st, the 9th annual summer evening event is held on the grounds of the Basile Opera Center at N Pennsylvania and 40th Street. With a few acres of lawn and a nice, big parking lot, there's plenty of room for tables, a great band, a few bars and yes, boiling pots of lobsters, corn on the cob, mussels and clams!
Lobster Palooza is a great way for fans of the opera to celebrate its success and get to know the staff and other fans of the Opera as well as enjoying a delicious New England style lobster bake with an open bar! Get your tickets here!